Adphos has enhanced and done major updates to their M-Series and NIRWeb solutions with improved user-friendly interfaces, easier electrical and mechanical integration and near instant start capabilities to allow users to do more than ever
BROOKFIELD, WI– August 26 th, 2016– adphos will be showcasing their family of proven drying systems in their booth(#1019) at Graph Expo in Florida, September 25-28. The biggest update of the world's most advanced thermal dryers, featuring new and improved serviceability that delivers ease-to-use and hassle free maintenance while allowing for easier third-party integrations.
The M-Series Solutions Updates
The newly improved WINNIR firmware is a direct result from user feedback and provides a more intuitive and powerful interface alongside revamped trouble-shooting and online diagnosis tools. The modifications to the module allow for easier maintenance and servicing of reflectors and other components. Additionally, the adphos Group can provide loaner equipment so user productivity and project deadlines can stay intact.*
HIGHLIGHTS
Near instant start/stop increases productivity while reducing wait time and scrap
Easier maintenance and service of reflectors
Third-party certified and approved
48-hour turnaround on domestic repairs with available loaners*
Introducing the new NIRWeb IV
With the new NIRWeb IV, improved third-party integrations are now available to customers. The new solution is revolutionizing the industry and allowing users across the world to do more with their dryers by increasing speed, productivity, efficiency while reducing the space required under the web and tool less maintenance and services.
HIGHLIGHTS:
Reduced space requirements
Tool less filter and emitter replacement
Easier maintenance and service of equipment
Improved third-party integration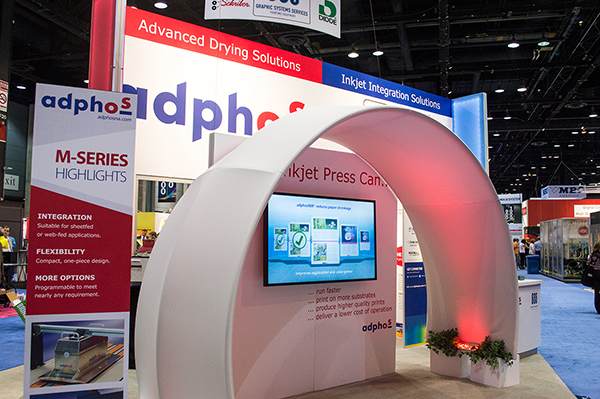 adphos Group
The adphos Group revolutionized drying in the Graphic Arts, Printed Electronics, Automotive, and Coil Coating industries with the introduction of their family of solutions featuring the uniquely patented adphosNIR Technology.Today, adphos leads the industry in innovation with their improved near-infrared wavelength technology, newly announced adphosLITE and a wide range of major updates flexible and compact products– providing reliable and tested experiences across all their solutions.Graph Expo 16 is going to be a leap forward towards excellence and the adphos Group is confident that you are not going to want to miss this show at their booth 1019.