At iNPRINT Munich from November 12th to 14th, 2019 a consortium of four companies; ACTEGA, adphos, ideeGO & Seiko Instruments demonstrates the possibilities of water-based inks and varnishes.
Water-based inkjetable OPV makes set-up cost obsolete!
On the booth 730 of the Japanese printhead-manufacturer Seiko Instruments a water-based overprint varnish by ACTEGA will be ink-jetted with Seiko's printhead RC1536-L onto a pre-printed paper-roll to demonstrate the versatility of a transparent fluid-application. The liquid will be applied in a 30 micron (wet) thick layer on a roll to roll machine of ideeGO and dried with an adphos NIR252-250E dryer module with an exhaust attachment and a back-reflector. Four 0.8 kW aNIR®-emitters will dry the OPV causing no damage to the substrate and the pre-printed image.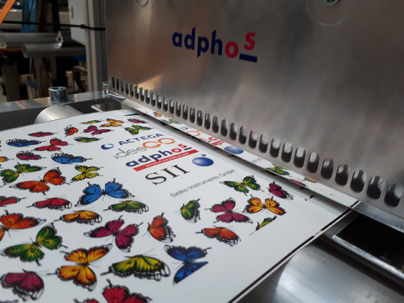 Drying water-based white ink with high opacity on plastic-film with the adphos laboratory test-system PBT on the adphos booth 721
The adphos PBT (Platen Based Transport) has been developed for lab-trials and is versatile for many different types of application tests. The PBT has a transport tray to hold the substrate at speeds of up to 12m / minute in two directions. The adphos drying module NIR252-250E can be equipped with up to six 3,1 kW-emitters providing 18,6 kW drying power on a radiation zone of 252 x 250 mm. The Seiko-RC1536-L-printhead , installed in a printhead holder by ideeGO, jets ACTEGA's white inkjet ink onto a temperature-sensitive flexible film-substrate and will be dried in close proximity to the print-head by the adphos near-infra-red-module without damaging the substrate nor causing premature ink-drying on the nozzle-plate.
adphos: The Bavarian technology leader in highly efficient advanced NearInfraRed-drying "aNIR®" provides the NIR252-250. This versatile dryer can be equipped with aNIR®-emitters from 0,8 kW to 3,1 kW. Generally, aNIR® systems can vary from 0.2 kW to 20,000 kW and between focussed areas of Ø 1mm as well as large areas of (3m x 10m) depending on application-optimized customer-specific process requirements.
aNIR® can be used for heating, forming, drying, melting and curing processes in a large variety of industrial sectors. Plastics, steel, graphics, automotive, pharmaceutical, food and semiconductor industries as well as thermal process engineering, 3D manufacturing and sintering application benefits from adphos' advanced NIR process technology. Within the last 25 years over 2.000 production systems have been successfully realized